Prądnik Knife
Length: 126mm
Width: 49mm
Thickness: 41mm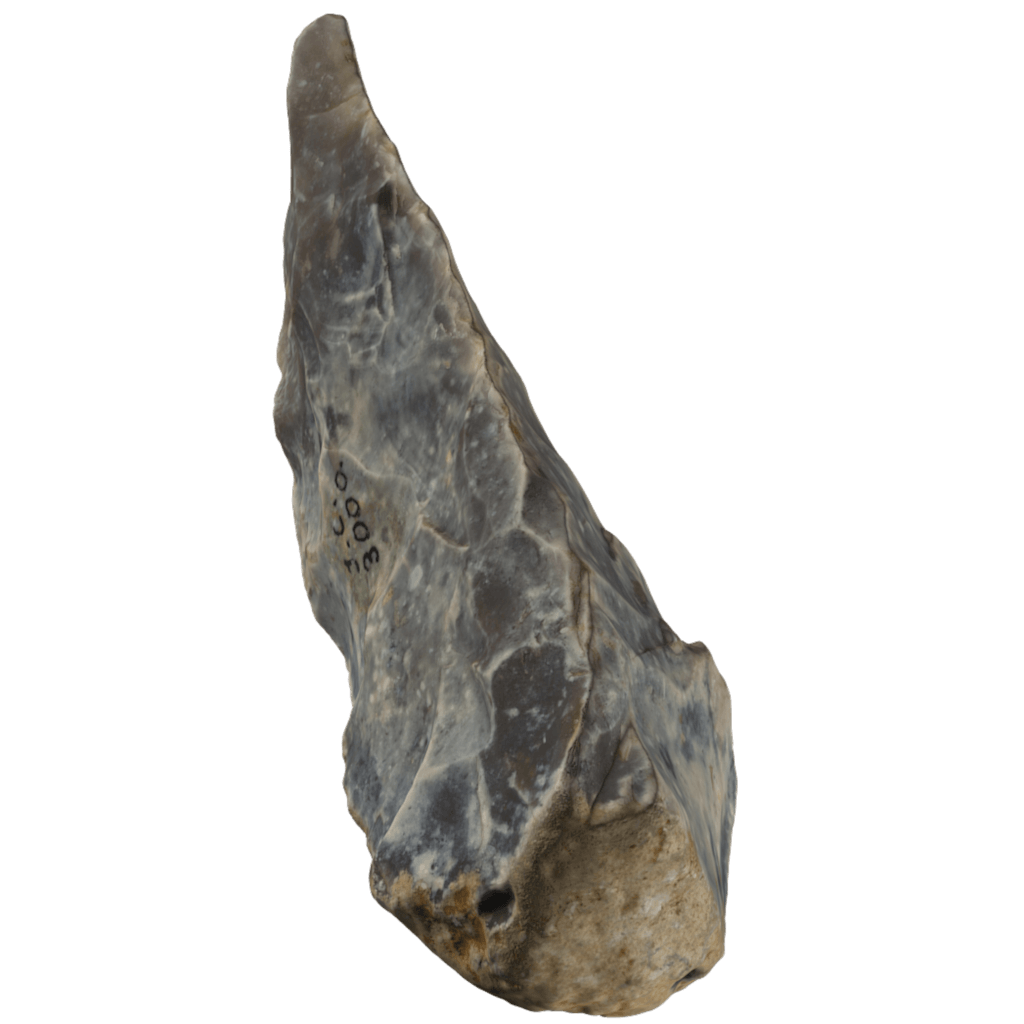 Prądnik is a name given to flat flint tools produced using multiple techniques. They are irregular in shape: they have a processed edge and a thicker part to be used as a handle. In the case of the knife on display, processing consisted in separating small flat fragments from the tool's edge. This technique requires high quality flint and a highly skilled craftsman. It was used in many areas and for long periods of time from the Lower Paleolithic Period until the Iron Age. Flint knives are characteristic of the Micoquien culture which is connected with Neanderthals. The object on display was discovered during excavations in the Ciemna Cave which the Archaeological Museum conducted in the 1960s. The site is the most prominent site documenting Neanderthals' settlement in Poland. The Prądnik River flowing below the cave gave its name to these characteristic objects.
Prądnik Knife
The Prądnik dates from the Paleolithic period, approx. 50,000 years ago. Produced of Jurassic flint using a percussion flaking technique. It is twelve centimetres long and five centimetres wide.
The object is a piece of flint with an almost flat irregular shape. In no way does it resemble the knife we know. An edge was fashioned along the longer side. The adverse side is broader and rounded. It made holding the tool possible. It is covered with a thin layer of so-called silicone cortex. This is the outer layer of the flint. The flat side surfaces of the knife bear marks of the skilful flaking of flint chips. They have the form of numerous irregular hollows. The stone is grey in these places.
The tool was fashioned in a way facilitating its sharpening. When blunt, precise blows would restore its appropriate sharpness.
The knife was discovered in the Ciemna Cave in the 1960s. This archaeological site has played an extremely important role in investigations into the Neanderthals in Poland and worldwide. The Prądnik brook flows below the cave. It gives its name to the knives found there.