Early Middle Ages
X-XIII century
Benedictine Abbey in Tyniec near Krakow
Total length: 72mm
Total width: 47mm
Plate length: 62mm
Plate width: 12mm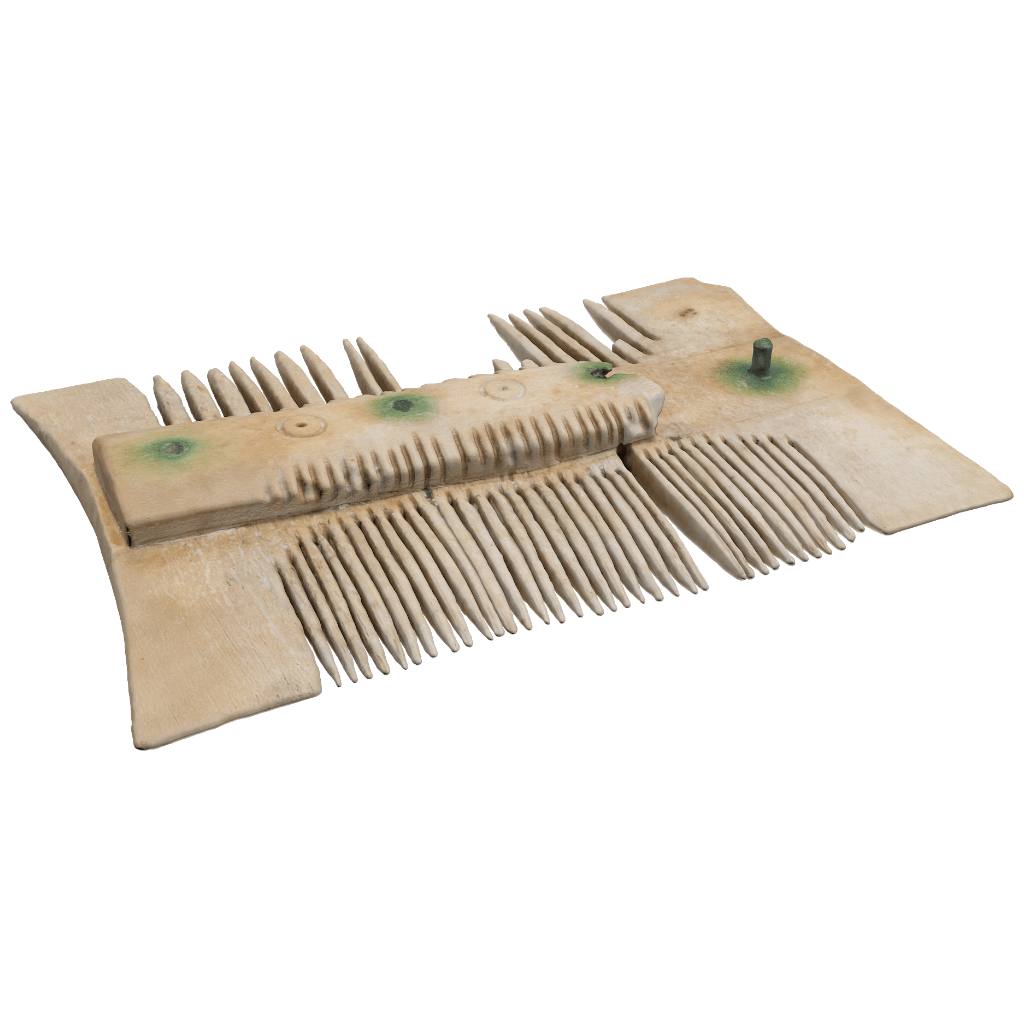 This double-sided comb was made of three layers of bone connected with bronze rivets. Two plates reinforce the structure of the item in its central part. They are decorated with a design in the form of circles bored between the rivets. The side edges of both plates feature regular grooves formed during the cutting out of the teeth. The item on display dates back to the Early Middle Ages. It was found in on the grounds of the Benedictine Abbey in Tyniec near Krakow.
In the Middle Ages combs were used not only by dwellers of cities, towns, and settlements located outside city walls, to look beautiful. Combs were also used by the clergy getting ready for the liturgy and to keep adequate cleanliness and hygiene, shaving their head clean was their only alternative.
This comb dates back from the Early Middle Ages, between the 10th and 13th century. Fashioned in bone, it is a rectangle with teeth set either side of a central spine. The sides measure 7 by 5 centimetres.
The comb is ivory in colour. The central part has been reinforced with two narrow rectangular plates attached down the spine, both front and back. They run down the entire length of the comb. They are connected with four bronze rivets which have stained the bone green. A decorative circle is inscribed between the rivets. There are three circles in all. The edges of the plates bear irregular notches formed in the process of cutting out the comb's teeth. The teeth are slightly thicker and less densely spaced on one side where almost half the teeth have been snapped off. The teeth on the other side are thinner, spaced with very narrow slots between. Several are missing.
In the Middles Ages combs of this type were used not only by high-born ladies, lords, and courtiers, but also by the clergy. It was their duty to keep a clean appearance and groomed hair during church services. The comb was found in the Benedictine Abbey in Tyniec in 1996.