The exhibition presents various aspects of life of the original inhabitants of Lesser Poland: from a Neanderthal man (70,000 years ago) to townspeople of medieval Kraków (700 years ago). It consists of several parts: Natural environment, Food, Housing, attire, jewellery, armament, Production, exchange and trade, Beliefs and art, Światowid from the Zbruch and The history of the museum. In all parts of the exhibition, the presentation consists of 12 time periods and developmental stages of the local communities.

In the first part, the original artefacts characteristic of different chronological periods against the changing elements of a natural environment were presented. The maps demonstrate the original landscape and the locations of archaeological sites. In another part, copies of the same artefacts were placed in replicas – working tools and weapons were recreated.
Another part of the exposition is "meeting ancestors face to face." 24 figures dressed in reconstructed clothing have facial features of actual inhabitants of Lesser Poland from both hundreds and thousands of years ago. Those are the so-called intravital portraits. Their features were reconstructed with the use of scientific methods taken from forensic medicine, using skulls found by archaeologists as a starting point. The figures are accompanied by models of houses created based on relics found during excavations – ranging from cave camps near Kraków to medieval towers in Kraków.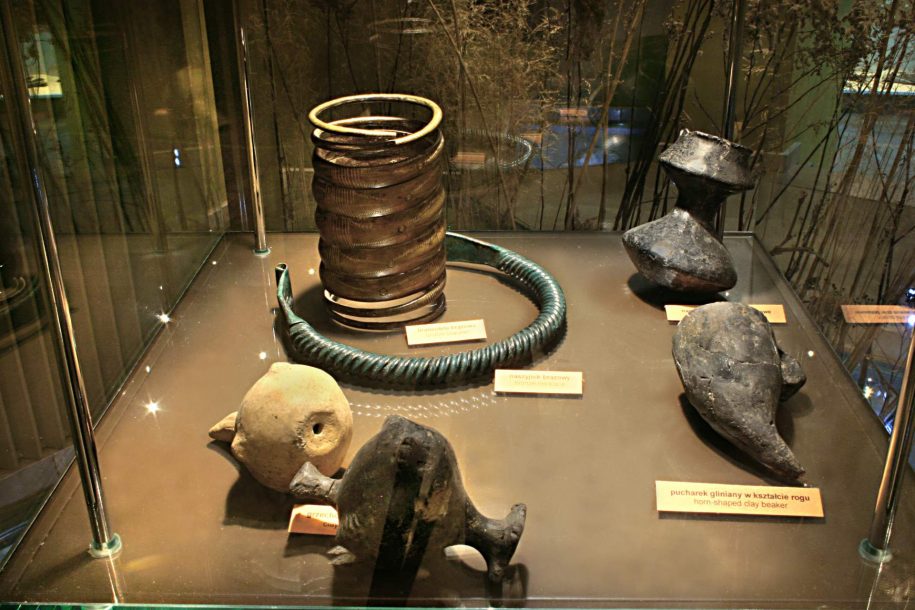 The exchange of goods allowed people to obtain materials and products that were not available in Lesser Poland. Another part of the exhibition includes artefacts which were imported to Lesser Poland. It draws attention to the diversity of the imported objects and materials – from different types of flint stones (in the Stone Age) to beautiful clay and glass vessels imported from ancient Rome. In the same room are computer animations showing methods of creating flint tools, ceramics, shell beads, bronze casting, building Roman objects, etc.
Another room is dedicated to beliefs and art. A dozen or so cremation and skeleton burials were reconstructed – illustrating different forms of burials over the years. In the display cabinets, objects reflecting the craftsmanship and the sense of aesthetics of our distant ancestors were presented. In the last part of this room, a famous stone statue of the so-called Zbruch Idol is displayed. It is one of the most well-known and mysterious artefacts in our collection. Its image is a symbol (logo) of the Archaeological Museum in Kraków.
The exhibition ends with a corridor in which one can familiarise oneself with the long history of over 160 years of our museum.

Script: Anna Dagnan-Ginter, Mirosław Zając
Design: Małgorzata Radnicka, Maciej Radnicki